Roll over image to zoom in
Description
Product details of 【External Hard Drive Disk Case 】UGREEN USB C Hard Drive Case 2.5 inch USB 3.1 Gen 2 Up to 6Gbps Type C to SATA Adapter for 7.5mm/9.5mm 2.5 Inch SATA I II III, PS4, HDD, SSD
There are 5 models available, please choose a suitable model according to your needs:
1) 2.5 inch HDD Case: Max 6Gbps transfer rate comes with a 50cm USB Type C to USB A 3.1 cable. Support up to 6TB.
2) 2.5 inch HDD Case+Bag: Support up to 6TB with a bag.
3) 5Gbps with 2-in-1 USB 3.0 cable: Max 5Gbps transfer rate, comes with a 2 in 1 50cm Micro B/USB C to USB 3.0 cable.
4) 10Gbps 2.5 inch HDD Case USB C: Max 10Gbps transfer rate, comes with a USB C to USB C cable.
5) 2.5 inch HDD Case+2-in-1 USB C cable: Max 5Gbps transfer rate, comes with a 2 in 1 50cm USB C/USB C to USB 3.0 cable. Portable External Storage -- UGREEN USB C 2.5 inch hard drive enclosure can easily connect your 2.5-inch hard drive to a PC, laptop, and another device for data transfer. It protects the hard disk from outside scratches and makes SATA hard disk drive portable for the data stores. Maximize the use of your 2.5" HDD and SSD again, perfectly protecting what you love and cherish.
Reversible Type C Gen 2 -- The USB 3.1 Type C Gen 2 (10Gbps) external HDD enclosure with USB Type-C Gen 2connector provides ultra-fast read and write speed. You can plug directly without worry about plugging in upside-down.
6Gbps UASP SuperSpeed -- The SATA interface of the SSD enclosure supports 6Gbps max transfer speed and UASP accelerated transmission protocol, 70% Faster than traditional USB 3.0, backward compatible with USB 2.0 and USB 1.1 ports.
Easy Installation -- Plug and play with tool-free installation, no driver needed for this SATA enclosure case. Universal Compatibility --this HDD case supports Windows, LINUX, Mac OS 8.0 and above systems. Specially designed for 2.5 inch HDD and SSD up to 6TB maximum within the thickness of 7 mm and 9.5mm, including Western Digital, Seagate, Toshiba, Samsung HDD, or SSD with SATA port.
Secure Your HDD Friendly -- LED blue indicator indicates powered status. Attached soft EVA foams on the inner sides, this 2.5" USB 3.0 to SATA enclosure protects your hard disks from improper shaking and scratches. With a detachable 50cm USB A to USB C cable, the type c drive disk cover is quite flexible to connect and take along.
Tips for Use
1. For new unused hard drive, it's necessary to make a partition at first, otherwise it can not be recognized.
2. To achieve UASP function, please make sure that the device, operating system and controller have the UASP function enabled.
3. Always safely remove your disc before unplugging this product.
4. Do not suggest the connection with 12.5mm hard drive, the slide cover cannot be closed in this case.
5. Win XP 32bit system does NOT support hard drives above 2TB.
6. For Type C Model, as SATA-interface hard drives support max 6Gbps transfer rate, so Type C HDD enclosure could reach up to 6Gbps.
7. Does NOT support hard drive that is powered with DC 12V. (PlsÂconfirm power mode from the back of hard drive)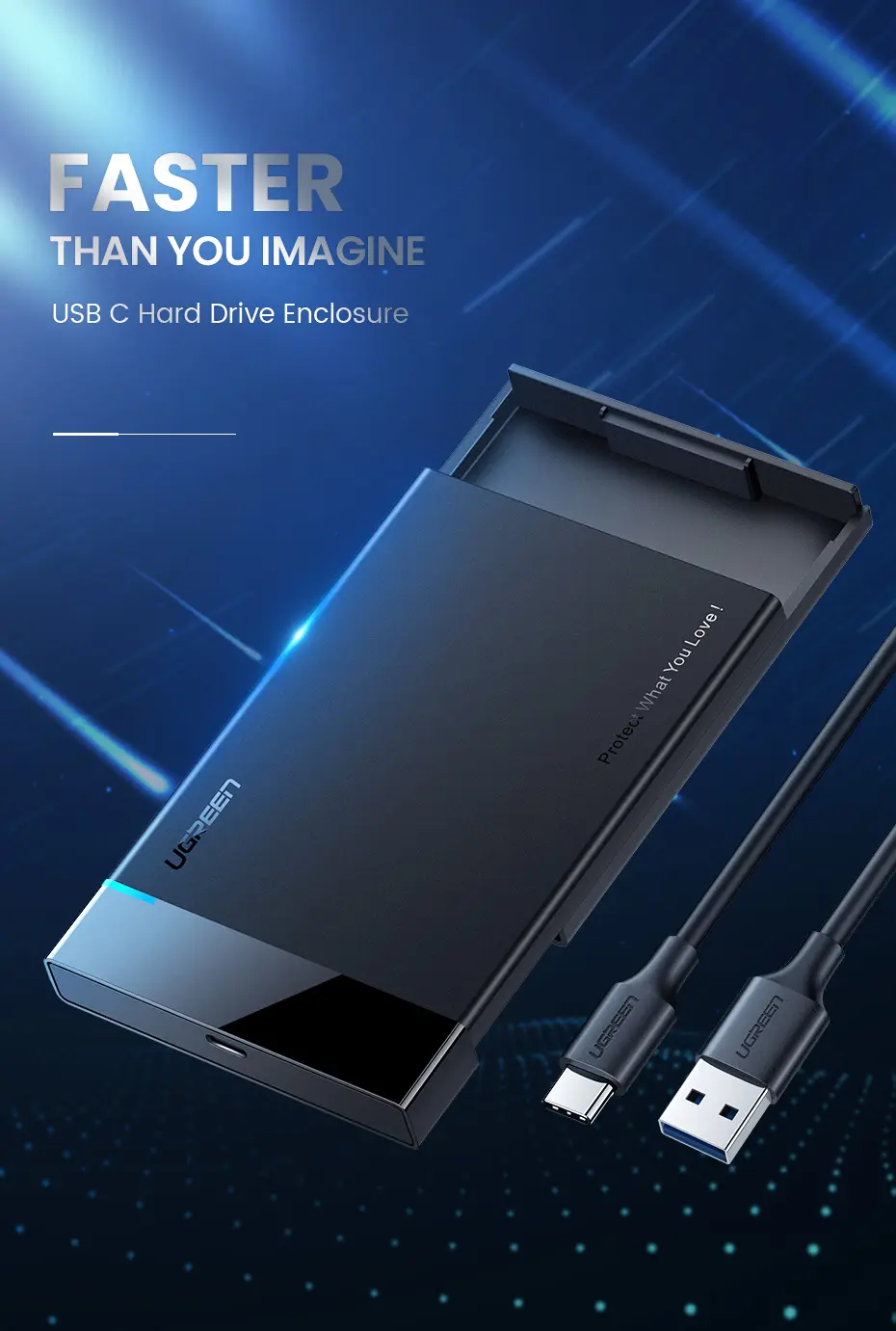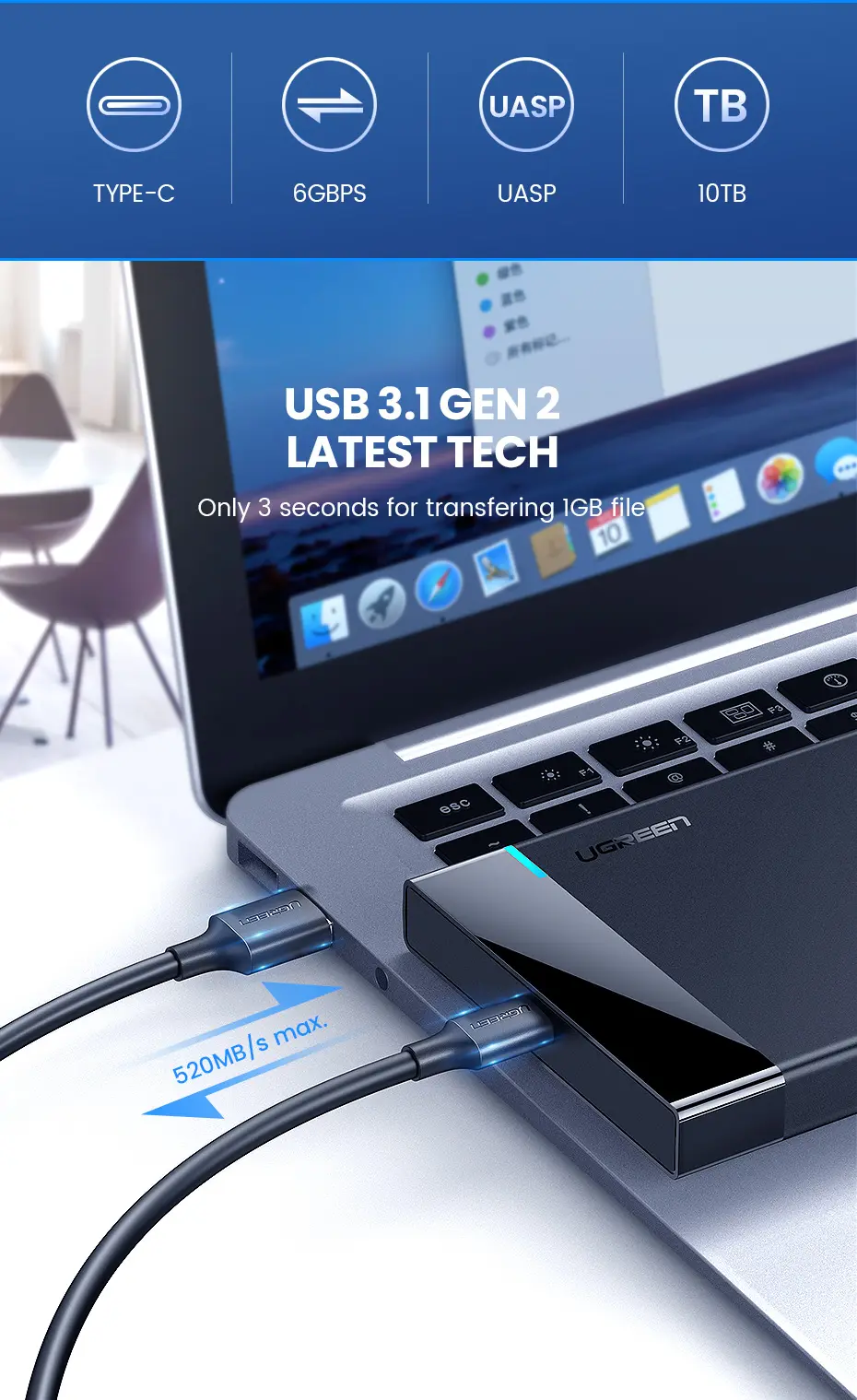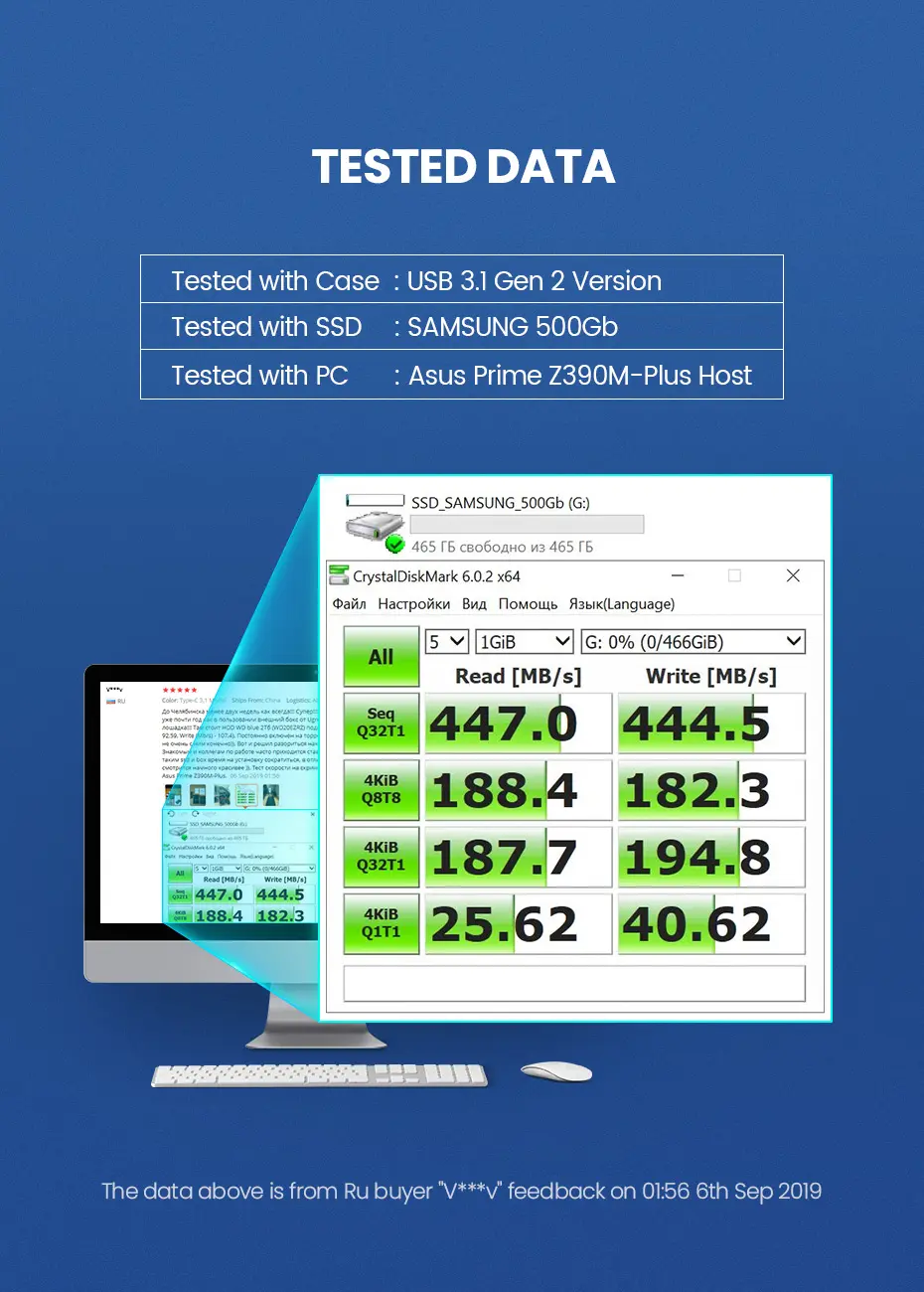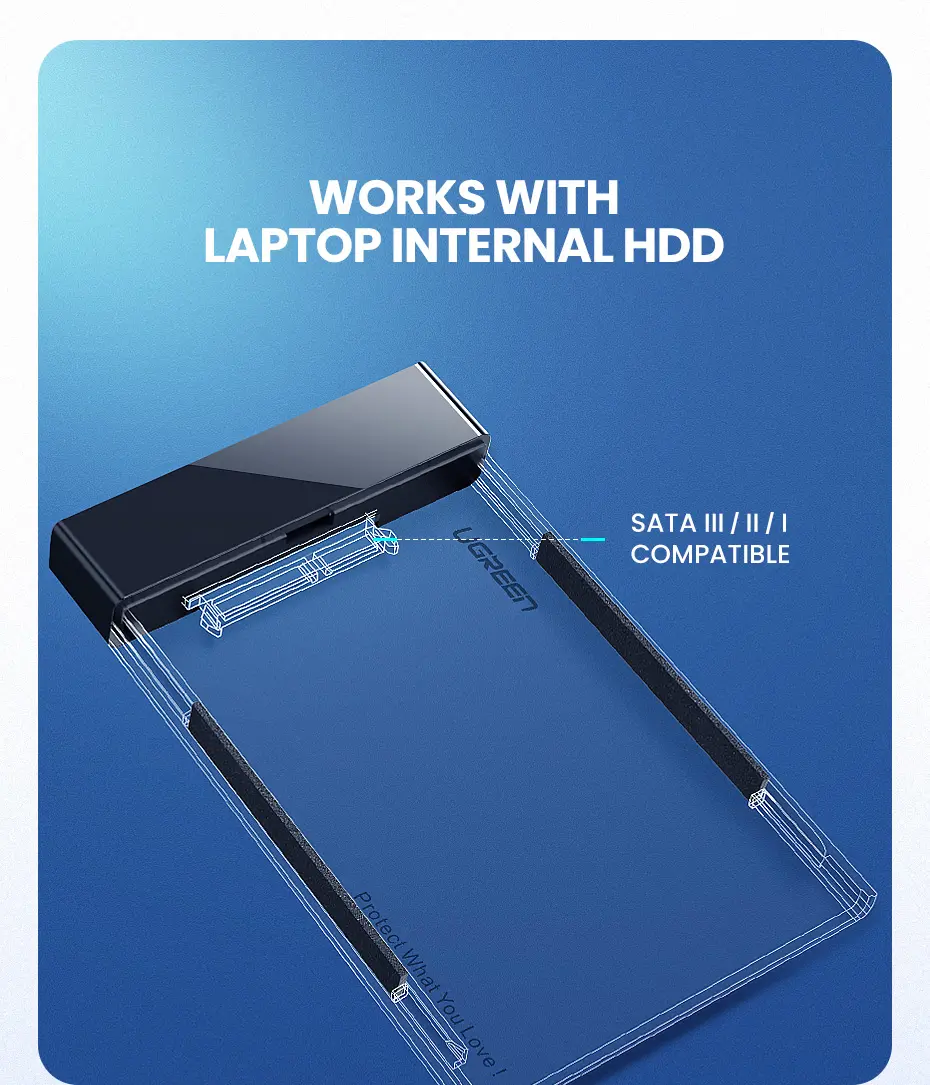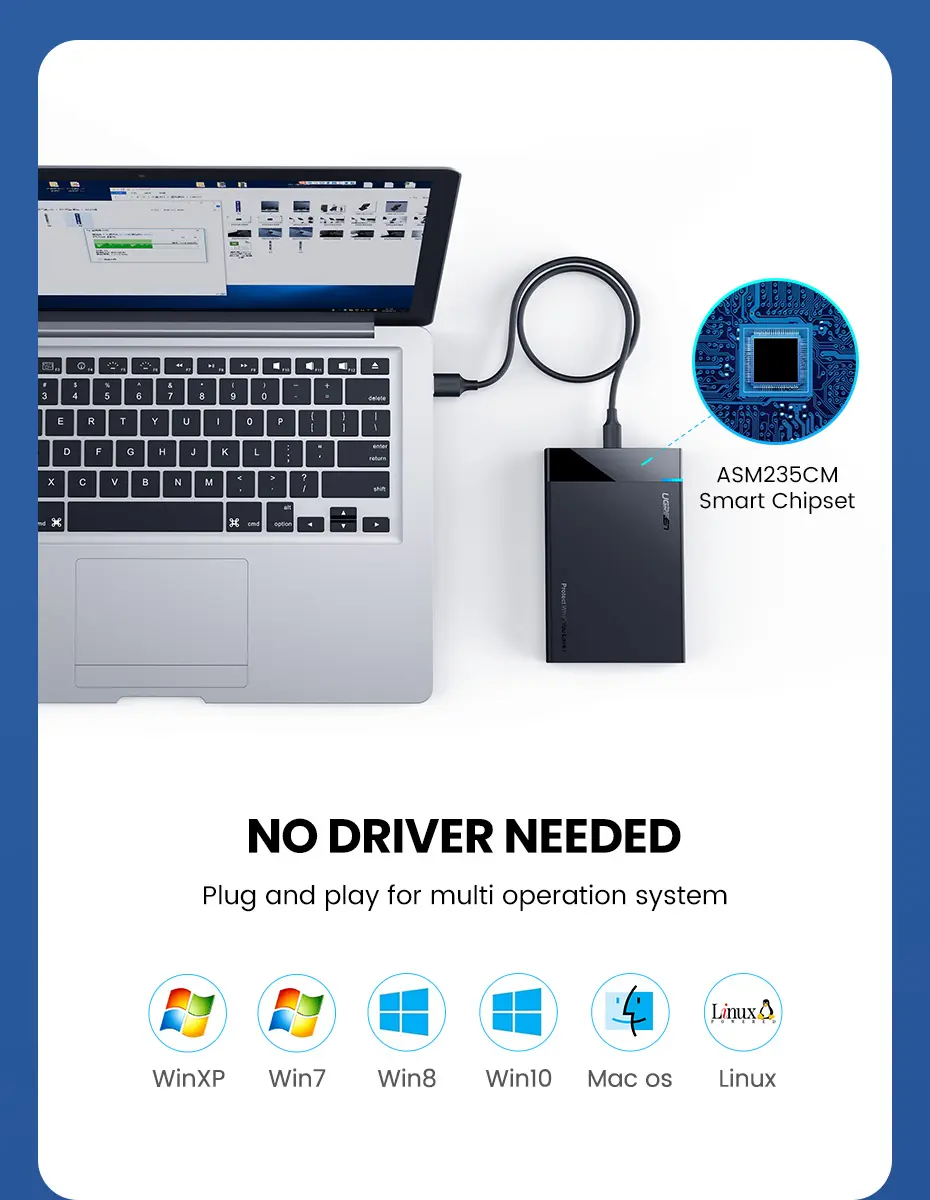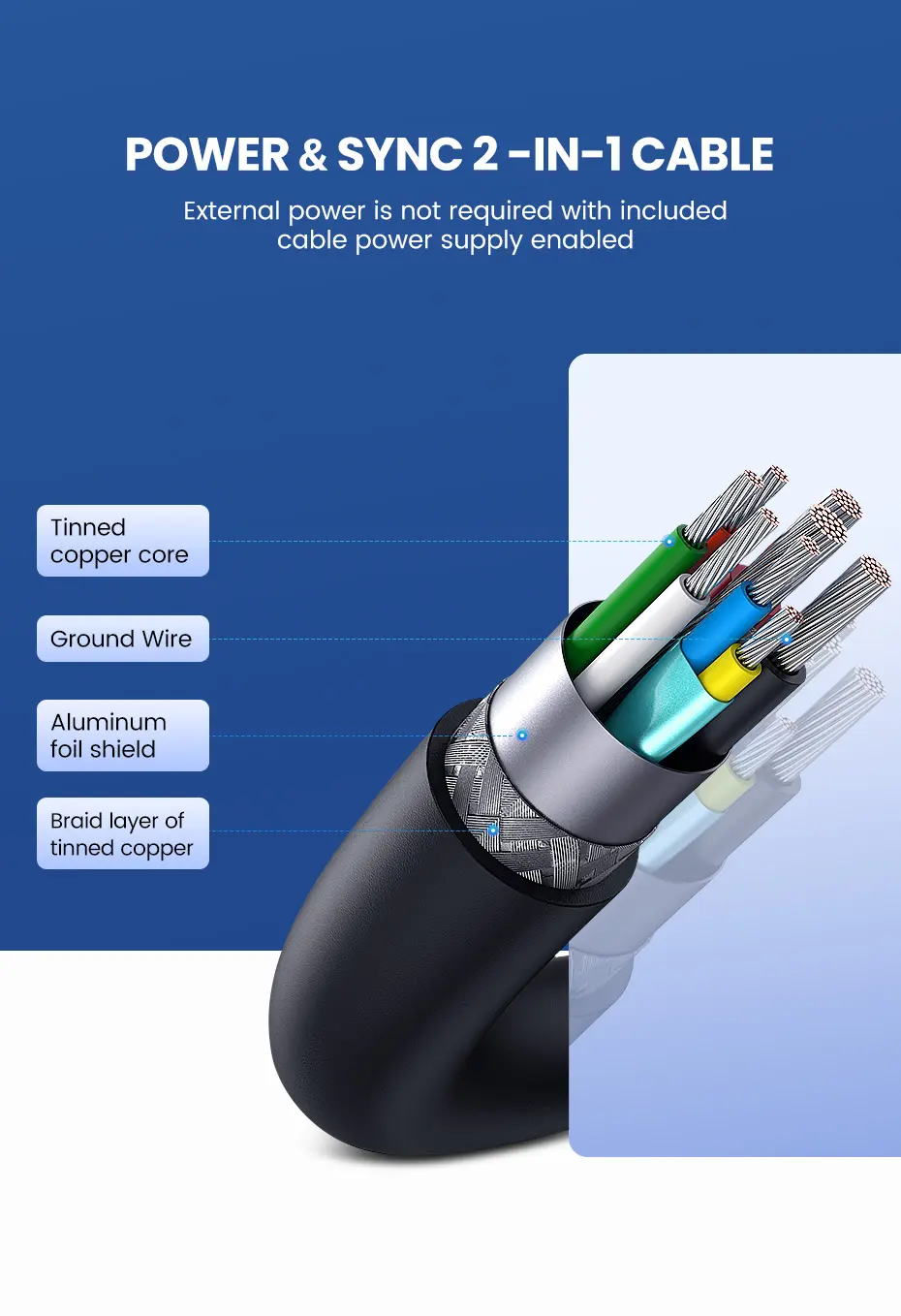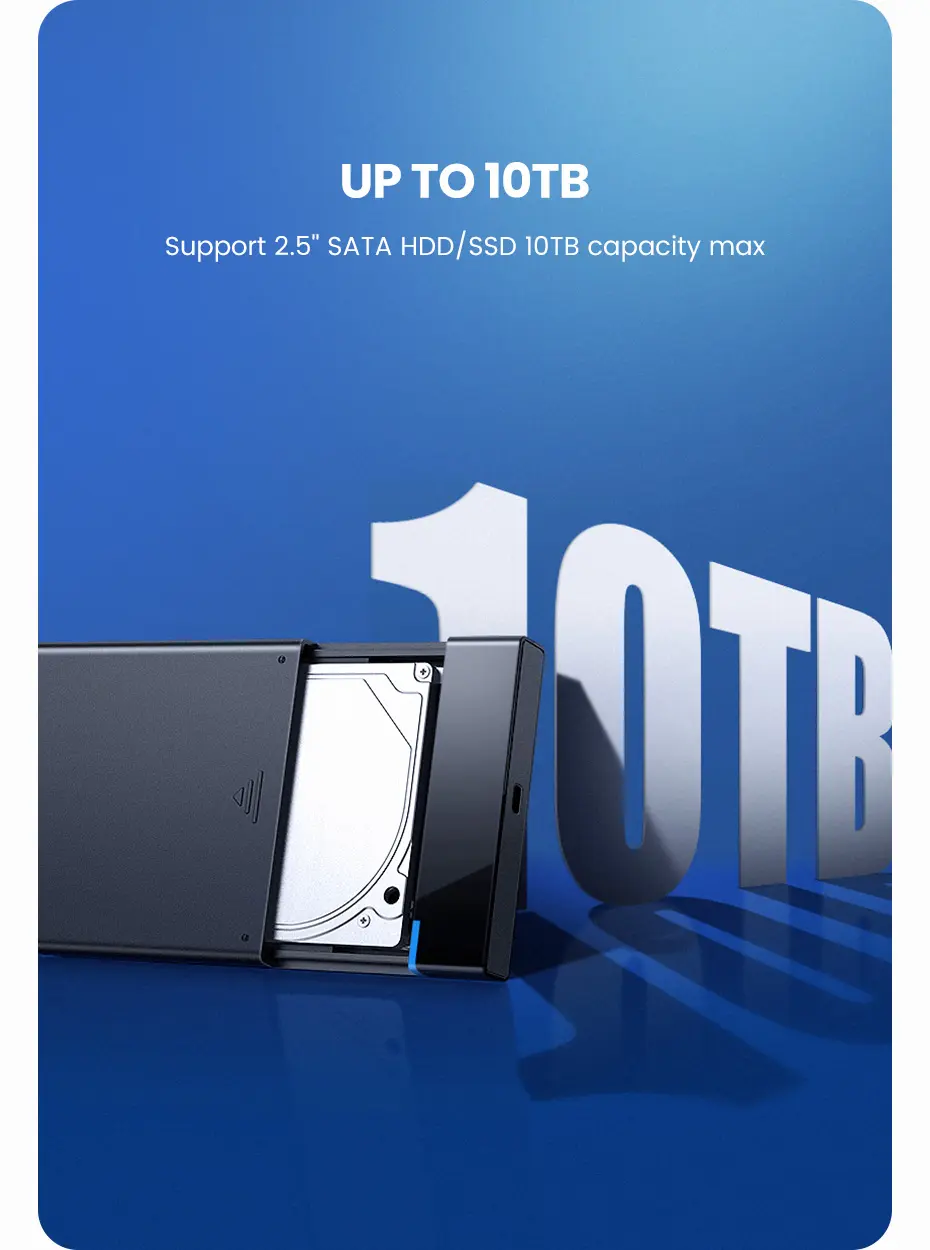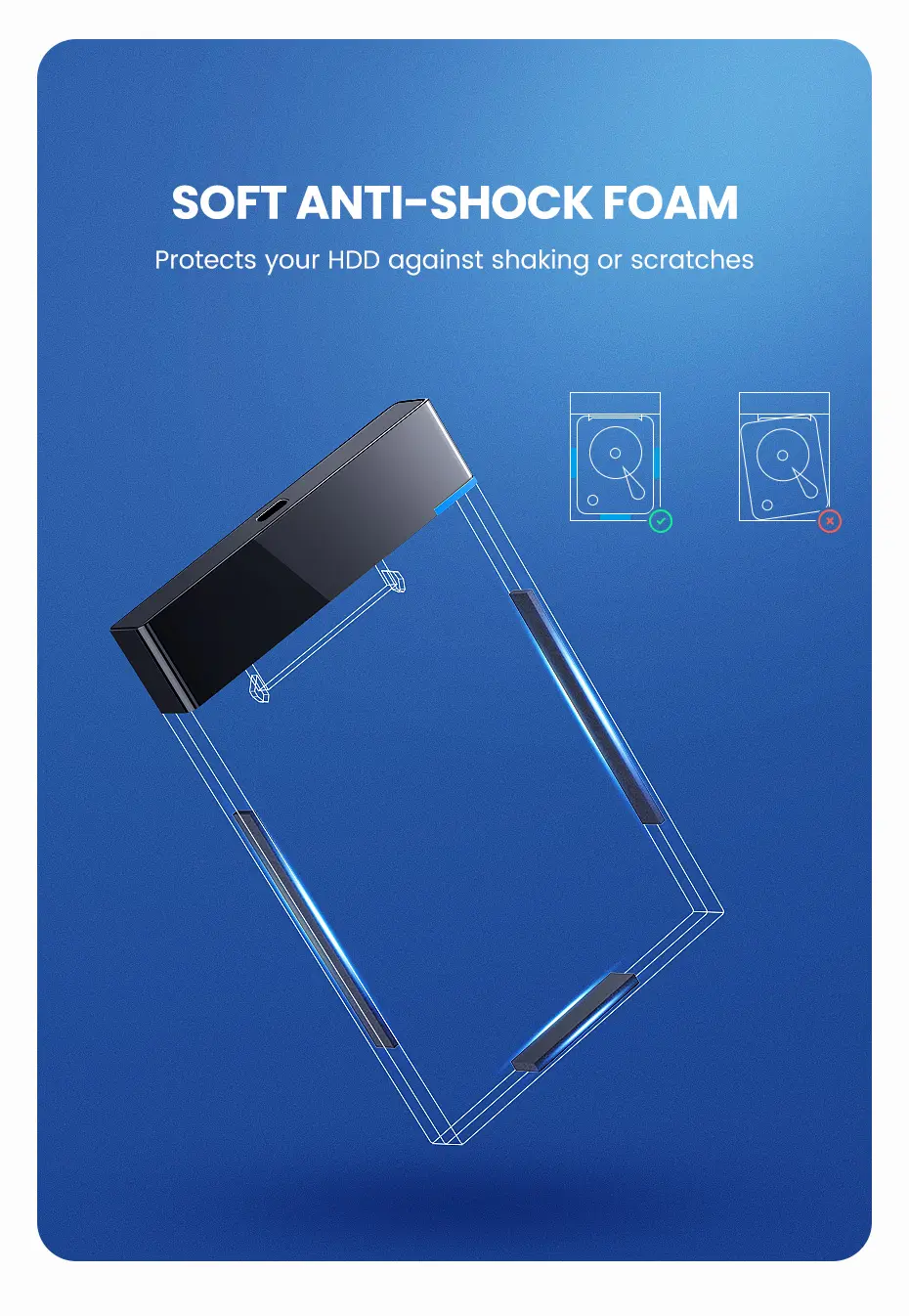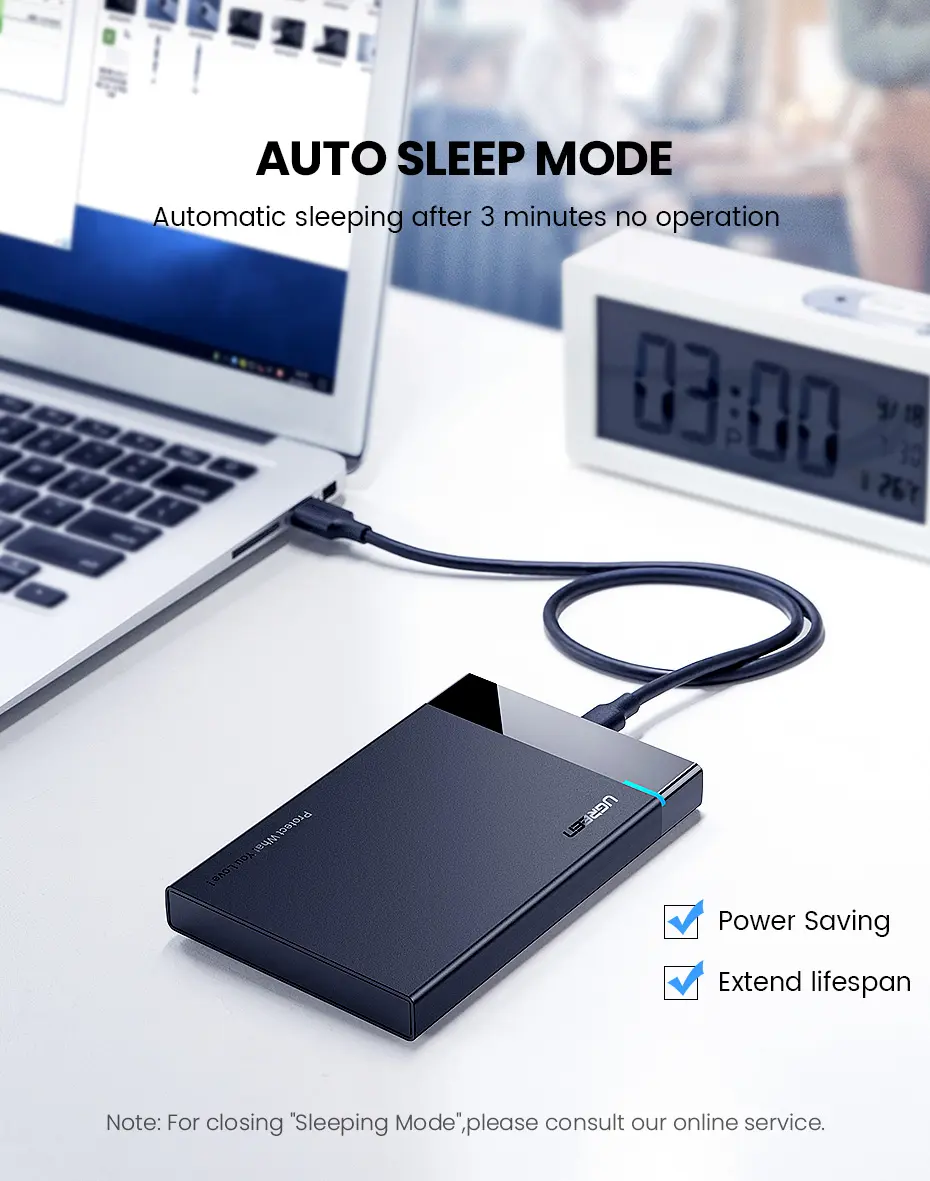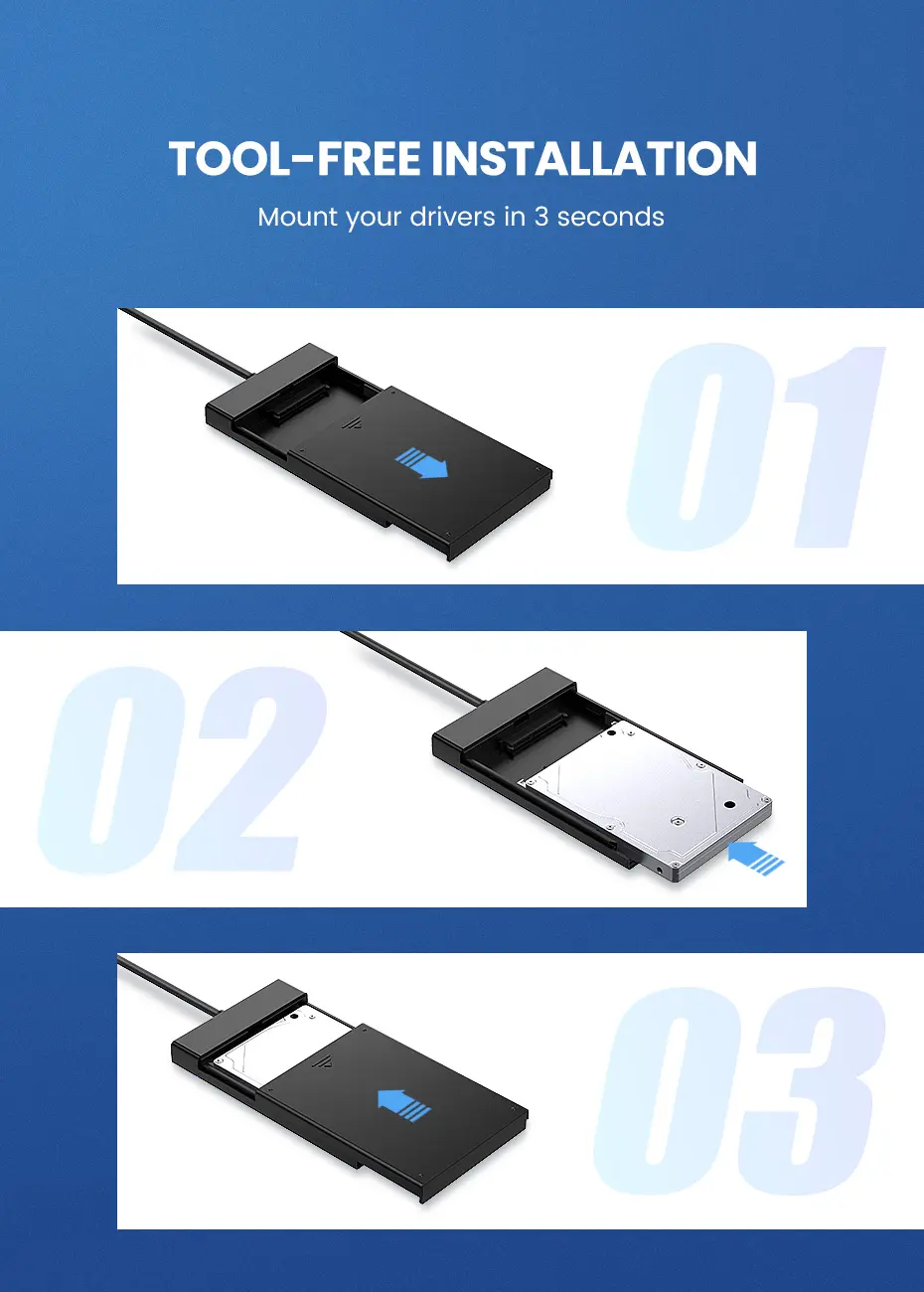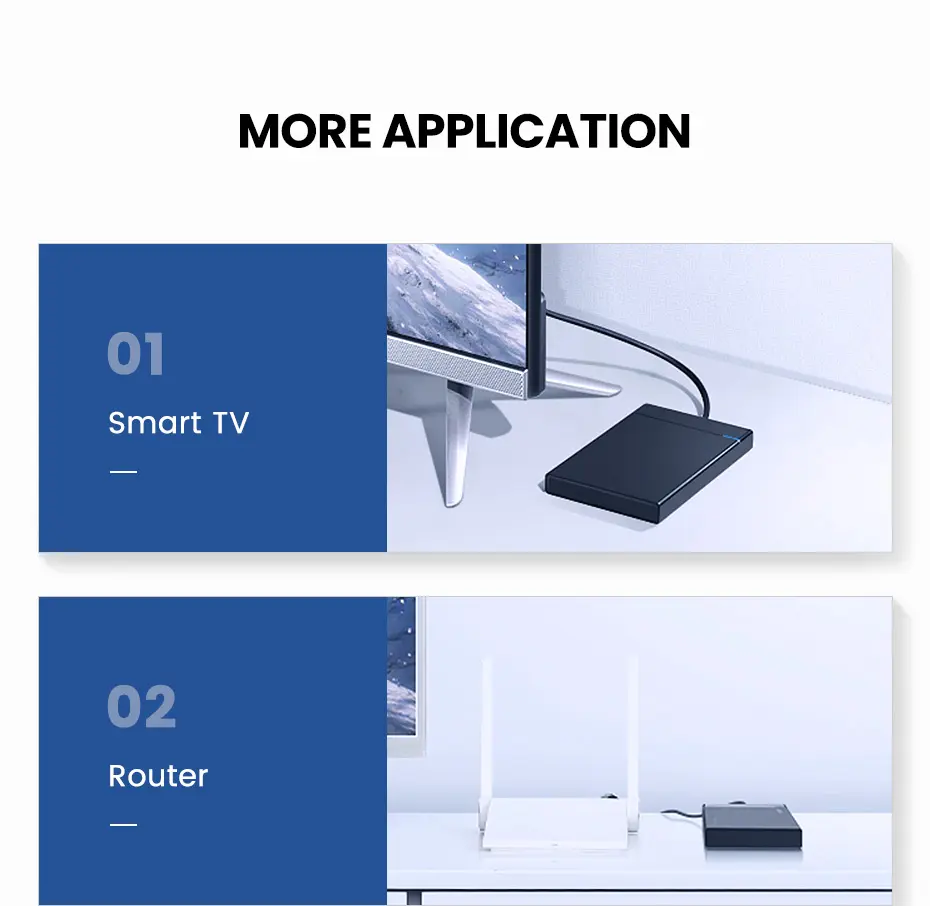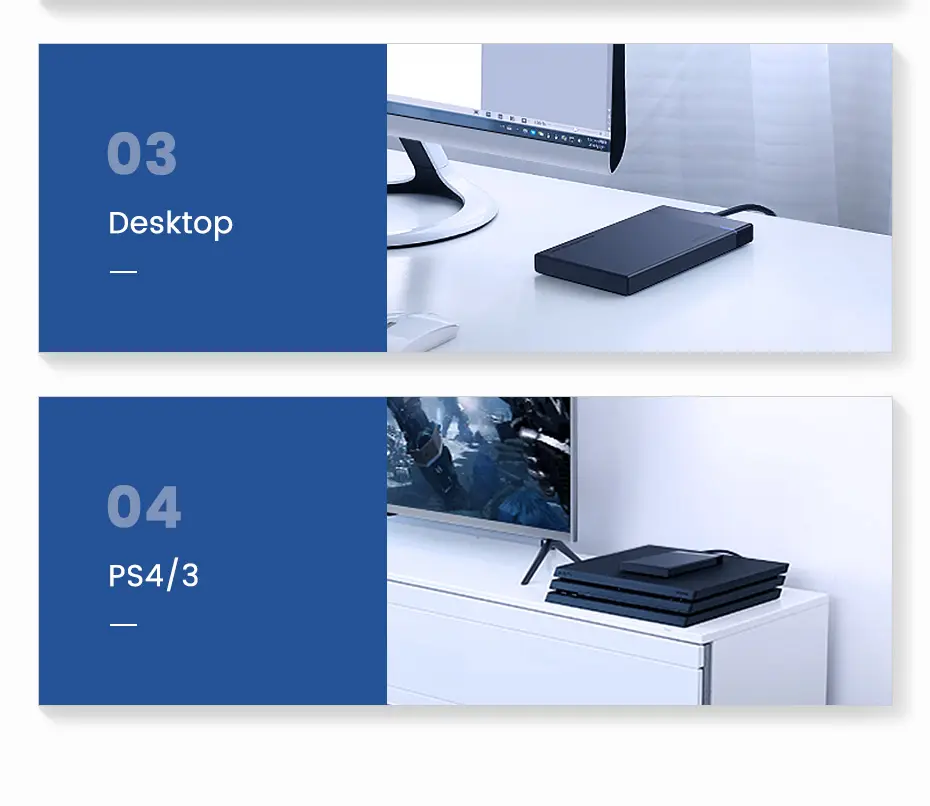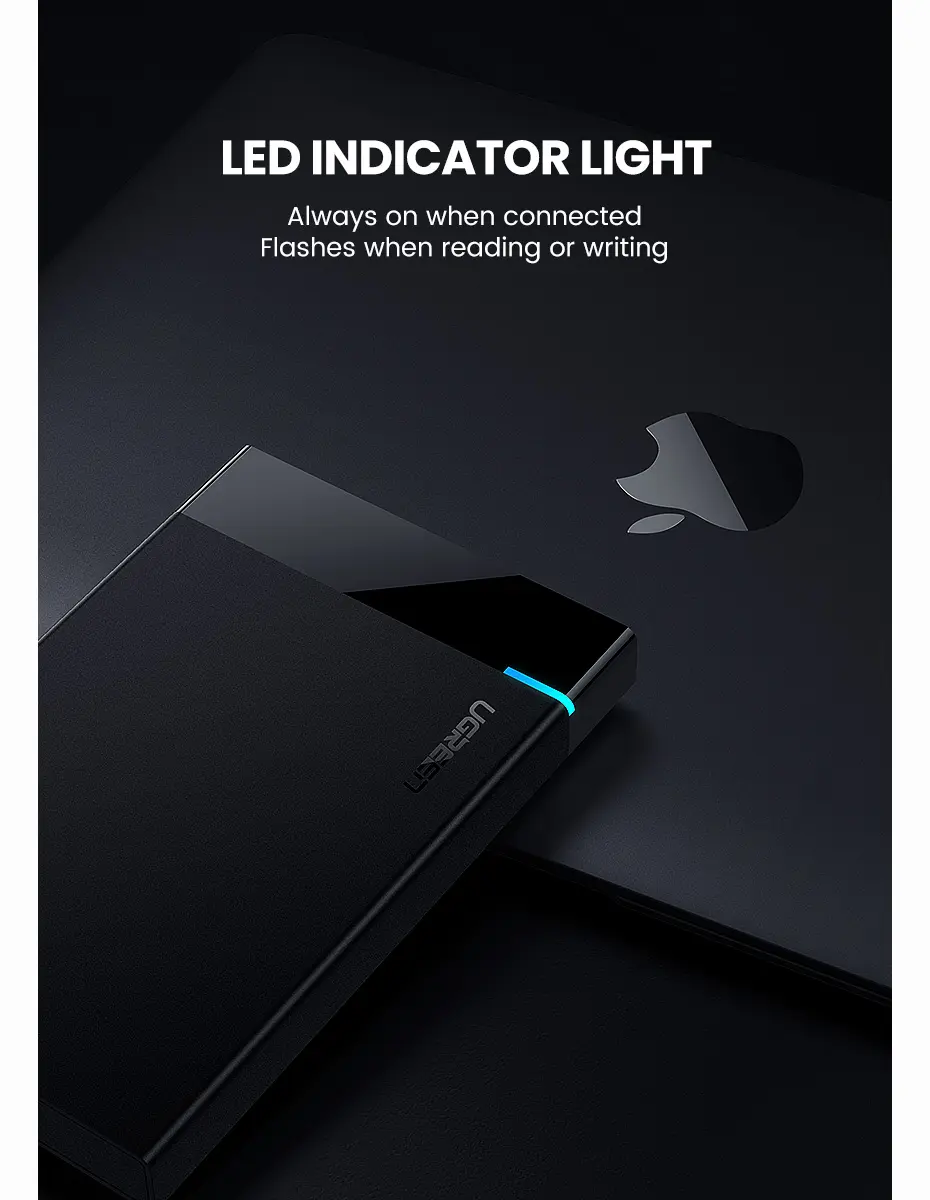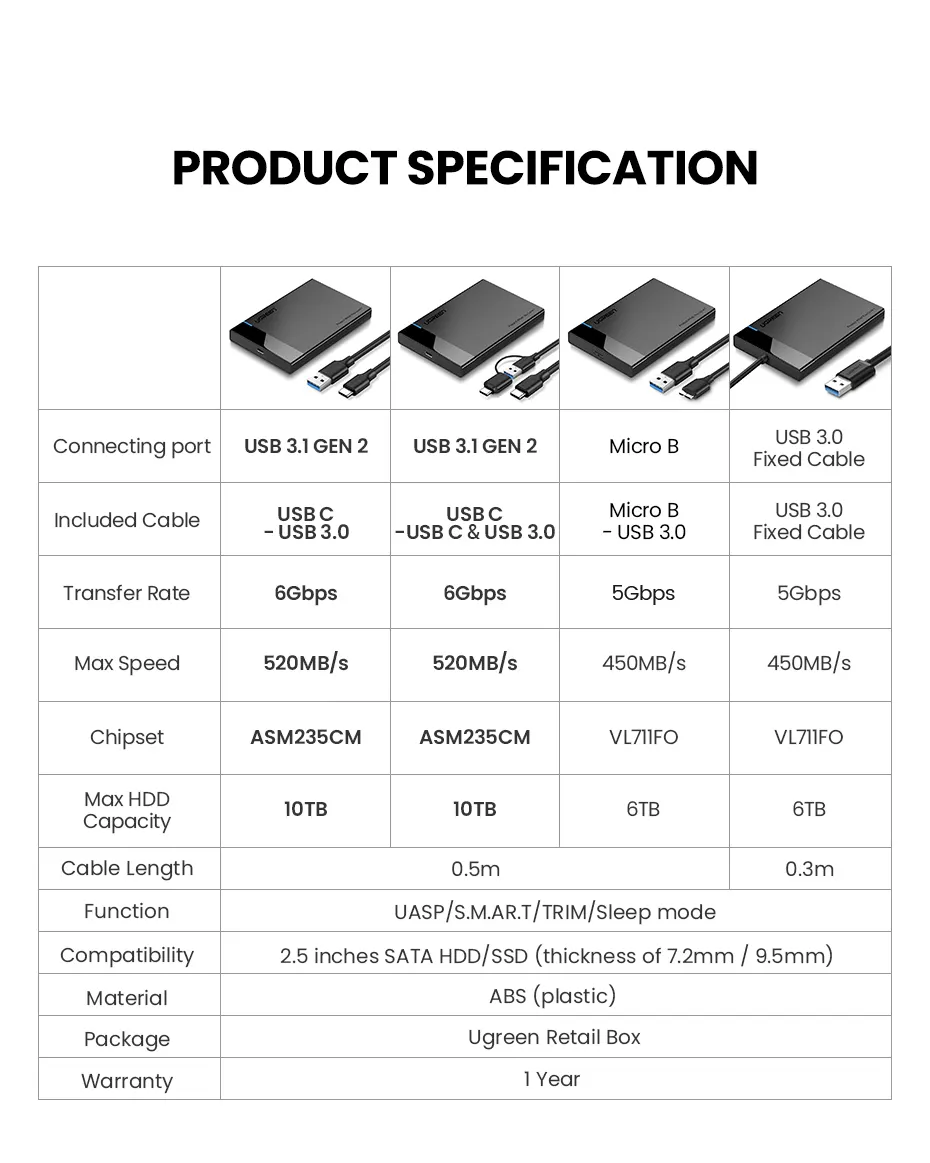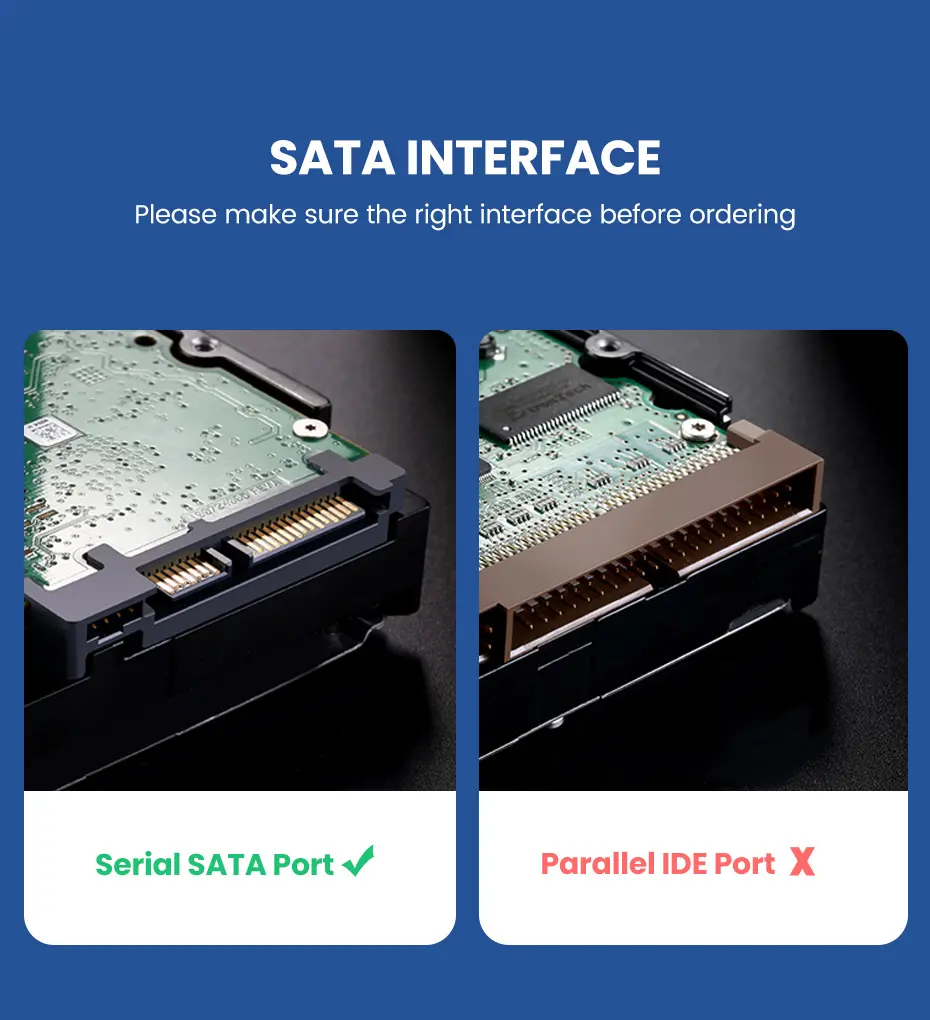 Great Portability for Your 2.5" Hard Drive
Ideal for harnessing your old 2.5"HDD and SSD hard drive as an external USB drive, the USB-C hard drive enclosure will provide you greater convenience of use and versatility of digital data storage. An ideal choice for digital lovers, movie lovers and business elites.
Latest USB Type C Gen 2 Port, Ensure Fast Transfer and Easy Plug
The USB-C is reversible, convenient to plug and no worry about plugging upside down. The USB C port adopts Gen 2, assuring you the highest speed data transfer.
USB C Gen 2 with UASP, Faster and More Efficient
The enclosure comes with the USB 3.1 Type C Gen 2 connection enhanced with the UASP protocol, delivering up to 70% faster performance than conventional USB 3.0. The 6Gbps max speed makes you transfer 1GB file just in only 5 seconds.
Easy Usage, Full Protection
- Plug and play, no driver needed.

- Easy assembly in seconds, tool- free.

- Equipped soft EVA foams inside, protecting your hard disks from improper shaking and scratches.

- Elegant brushed housing with fireproof, shockproof ABS material, makes the case a beautiful addition to your desk.
Intelligent Sleeping Mode for Power Saving
After 3 minutes no operation, it will go into sleeping mode automatically, which greatly save power and decrease wear and tear of your hard drive.
HDD Enclosure Specification
1. Supports Windows 2000 / XP / Vista / 7/8 / 8.1 / 10, LINUX, Mac OS 8.0 etc.

2. Size: L28.5*W82*H14(mm)
Payment & Security
Your payment information is processed securely. We do not store credit card details nor have access to your credit card information.