Roll over image to zoom in
Description
Product details of UGREEN Active HDMI to VGA Adapter Digital to Analog Video Audio Converter Cable HDMI VGA Connector for Xbox 360 PS4 PC Laptop TV Box-Black
HIGH RESOLUTION UP TO 1080P: UGREEN HDMI to VGA adapter with built-in chipset supports high resolution up to 1080p;
SIMULTANEOUS AUDIO AND VIDEO TRANSMISSION : it comes with audio ouput port supporting speaker wihle video signal tranmisitting(for high fidelity 3.5mm audio cable with different length and angle(0 degree or 90 degree) search UGREEN 3.5mm audio cable);
AN EXTRA POWER SUPPLY FOR DEVICES WITH LOW-POWER OUTPUT PORT:it coming with an extra power supply port(micro usb port) can support devices with low-power output port such as MacBook Pro with Retina Display(1meter usb cable is include)
WIDE COMPATIBILITY: UGREEN HDMI converter is compatible with PC, Laptop, Ultrabook, Rasberry Pi, Chromebook, Macbook, Roku, Smart TV Box and other devices with HDMI interface.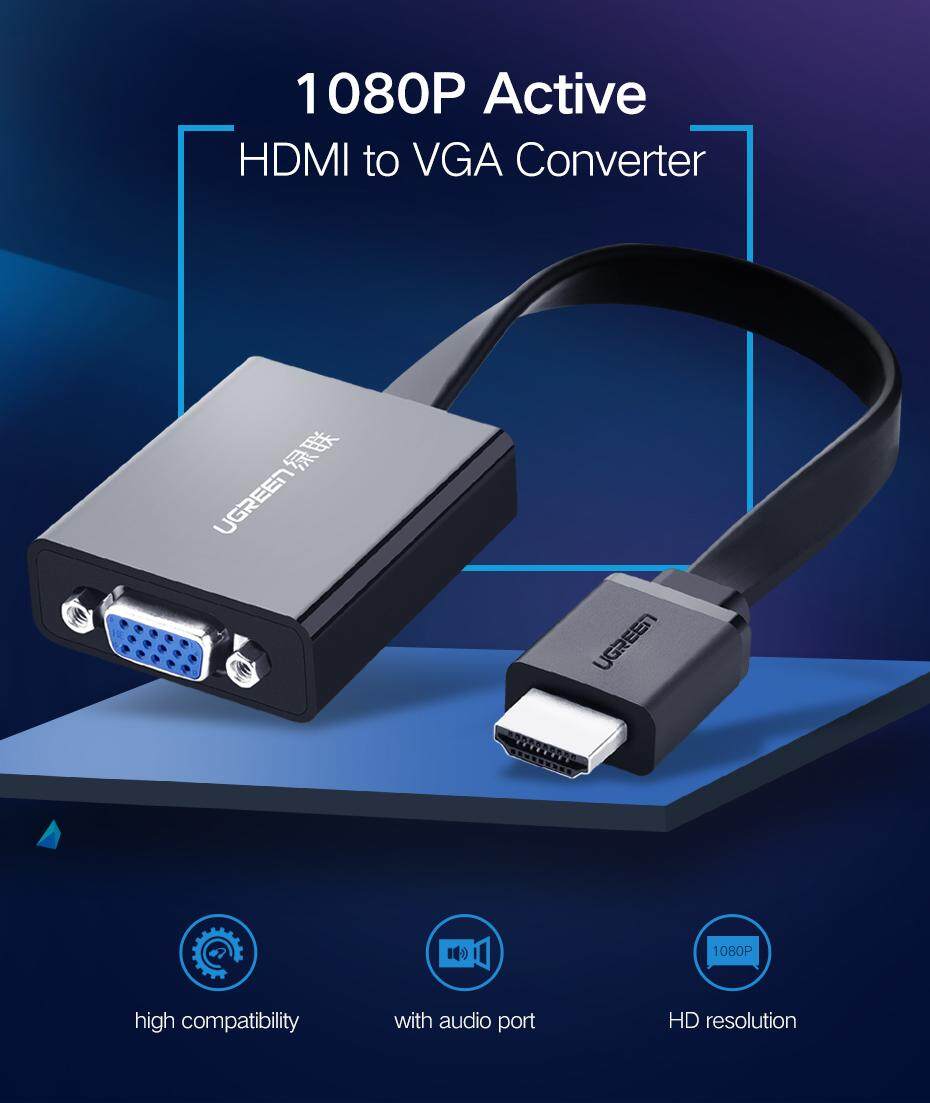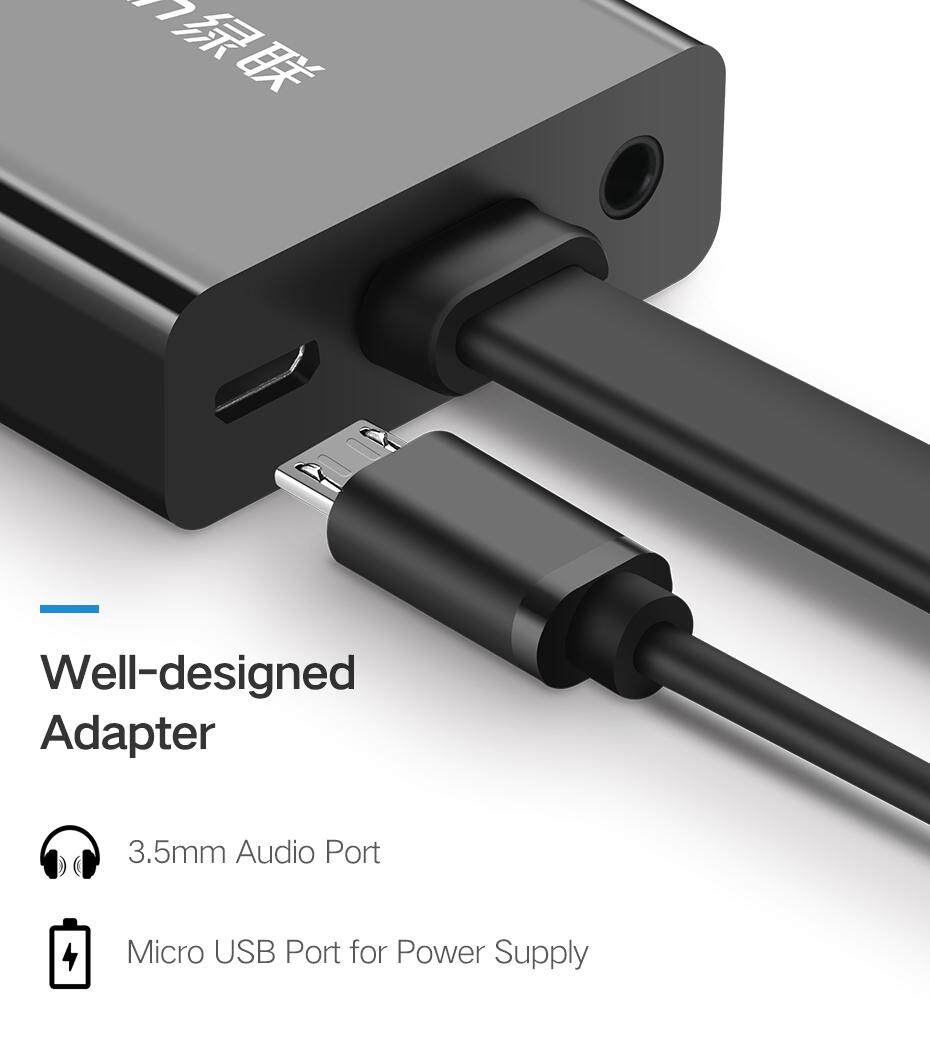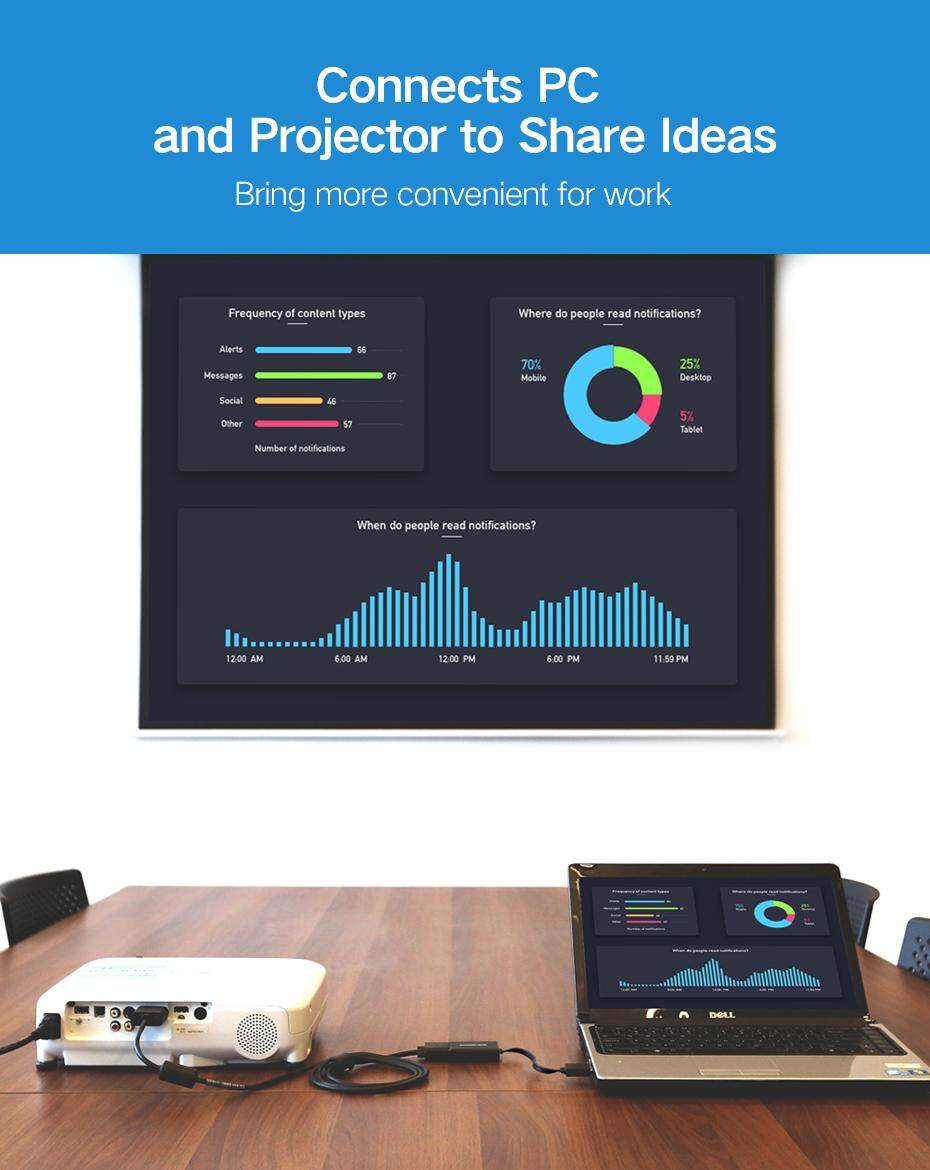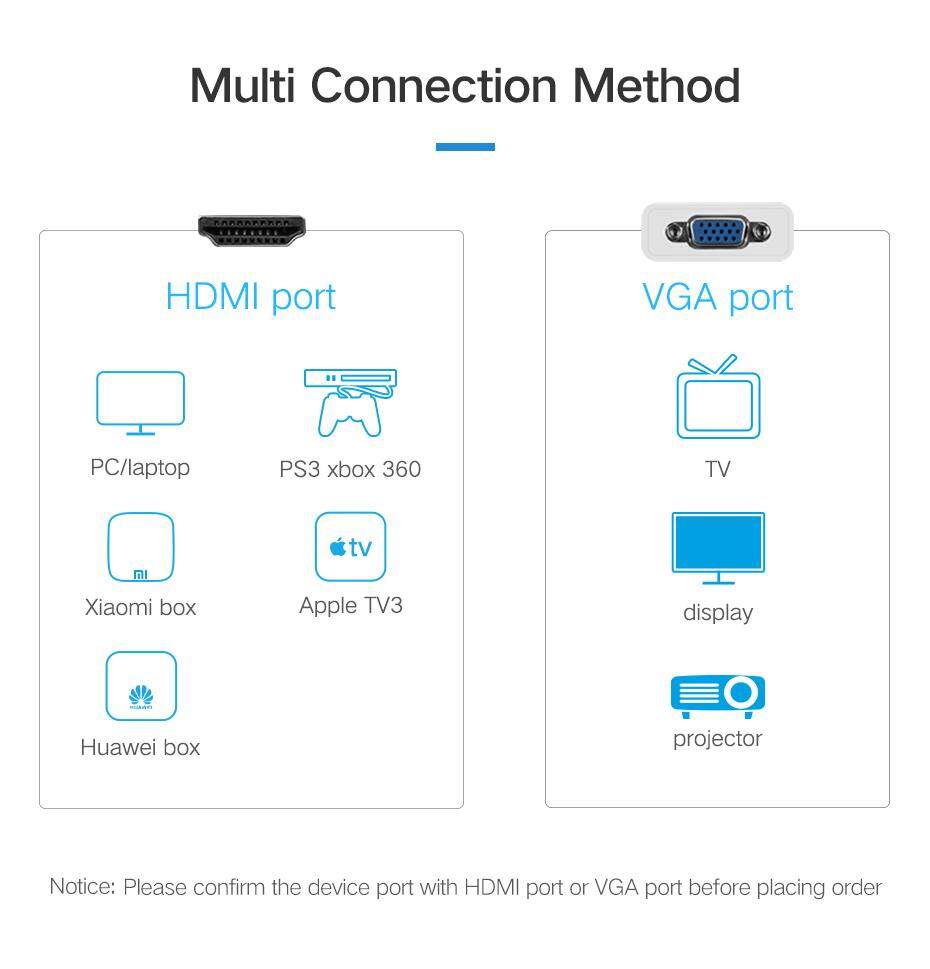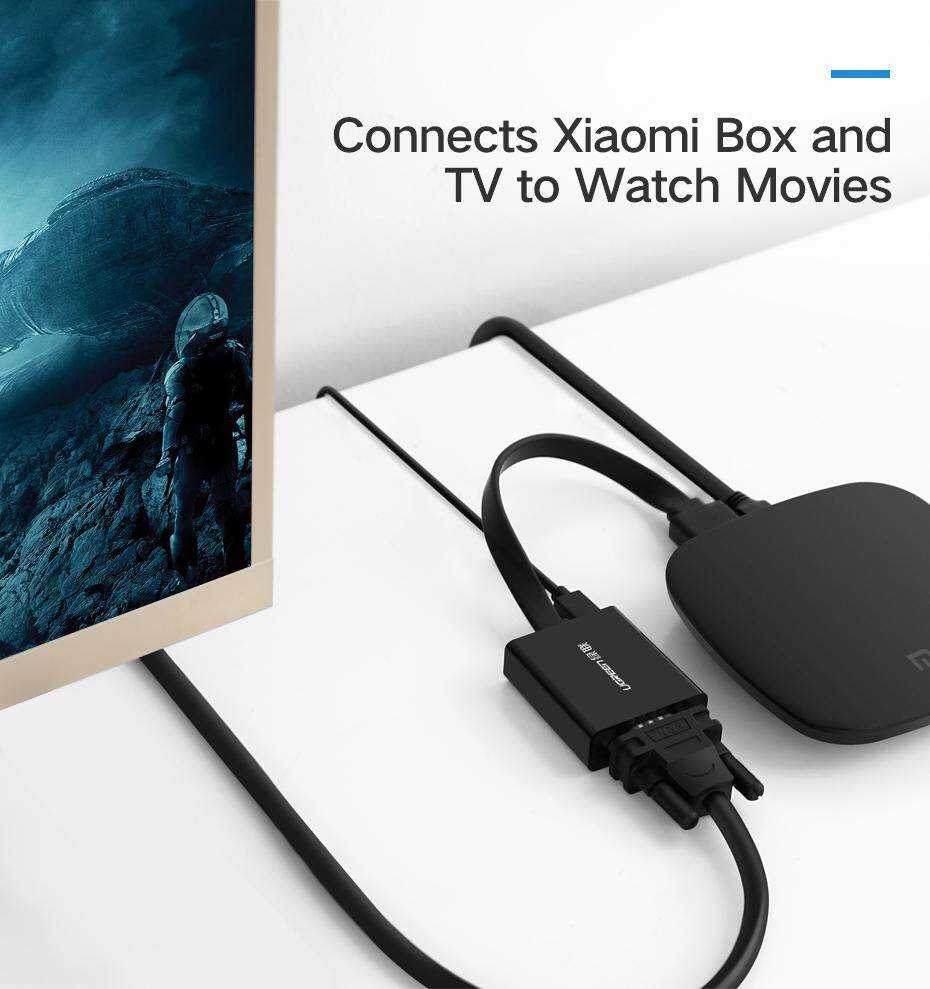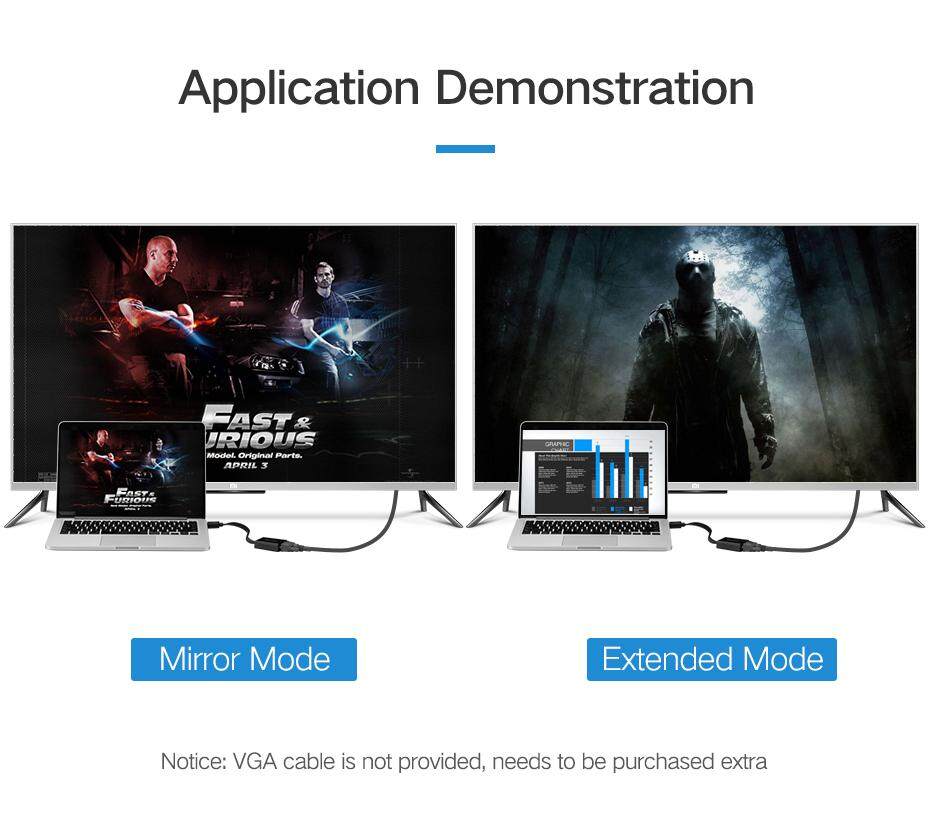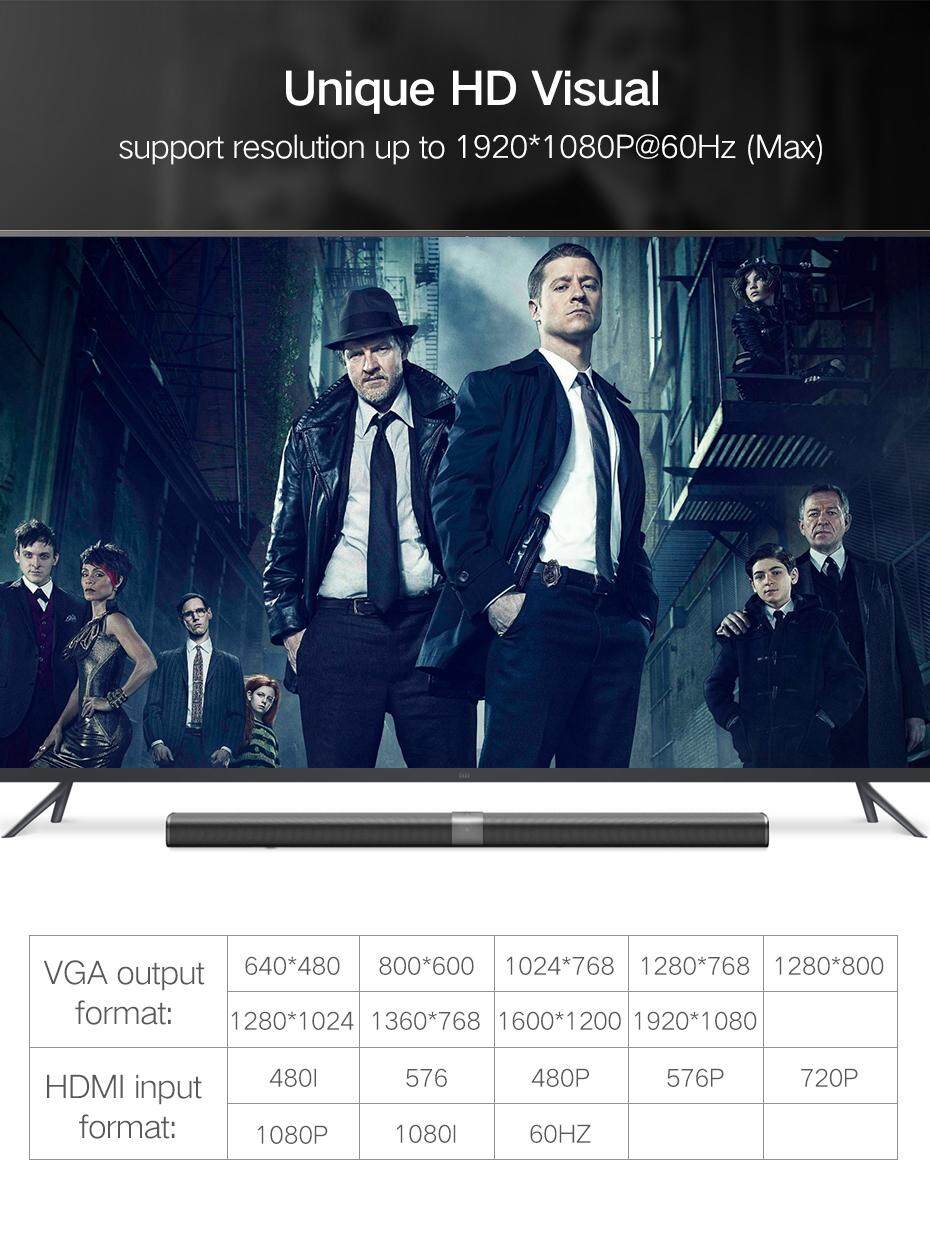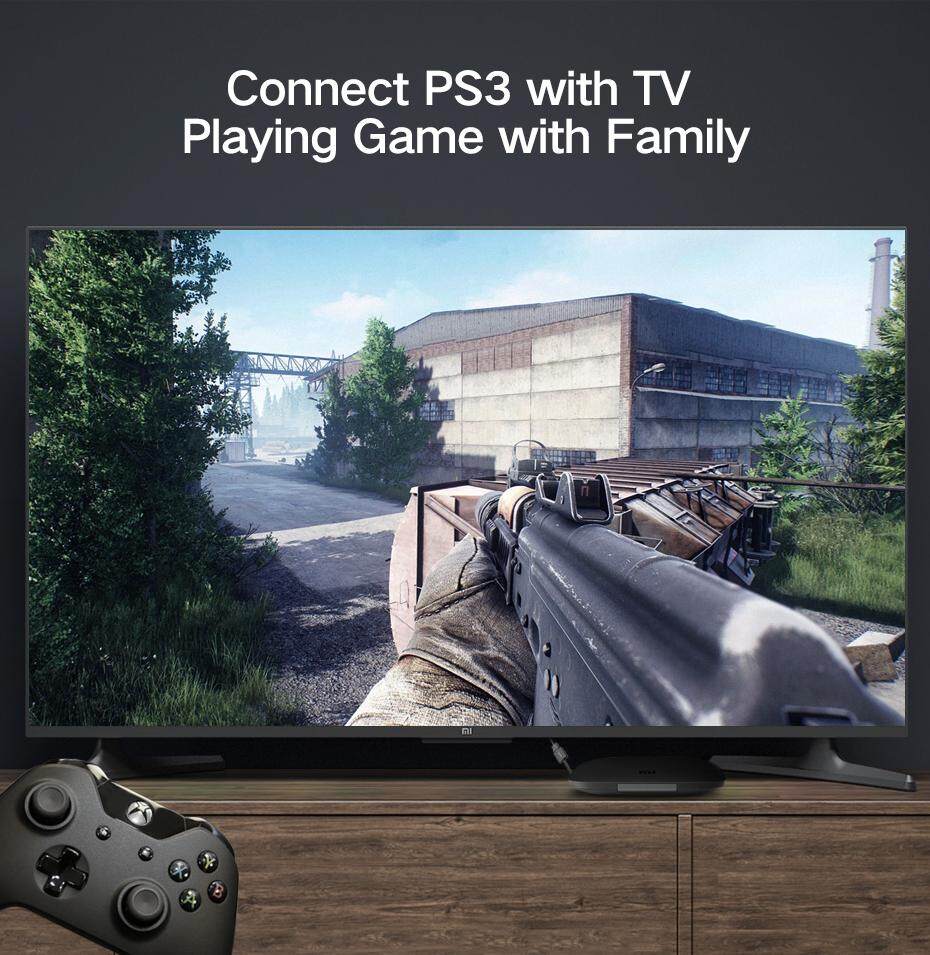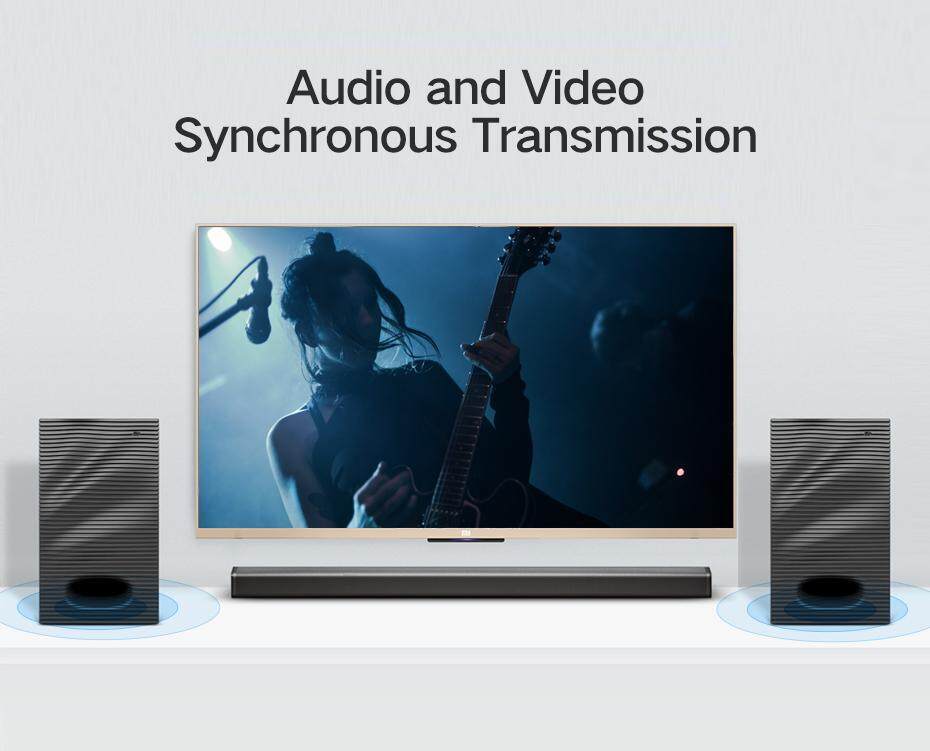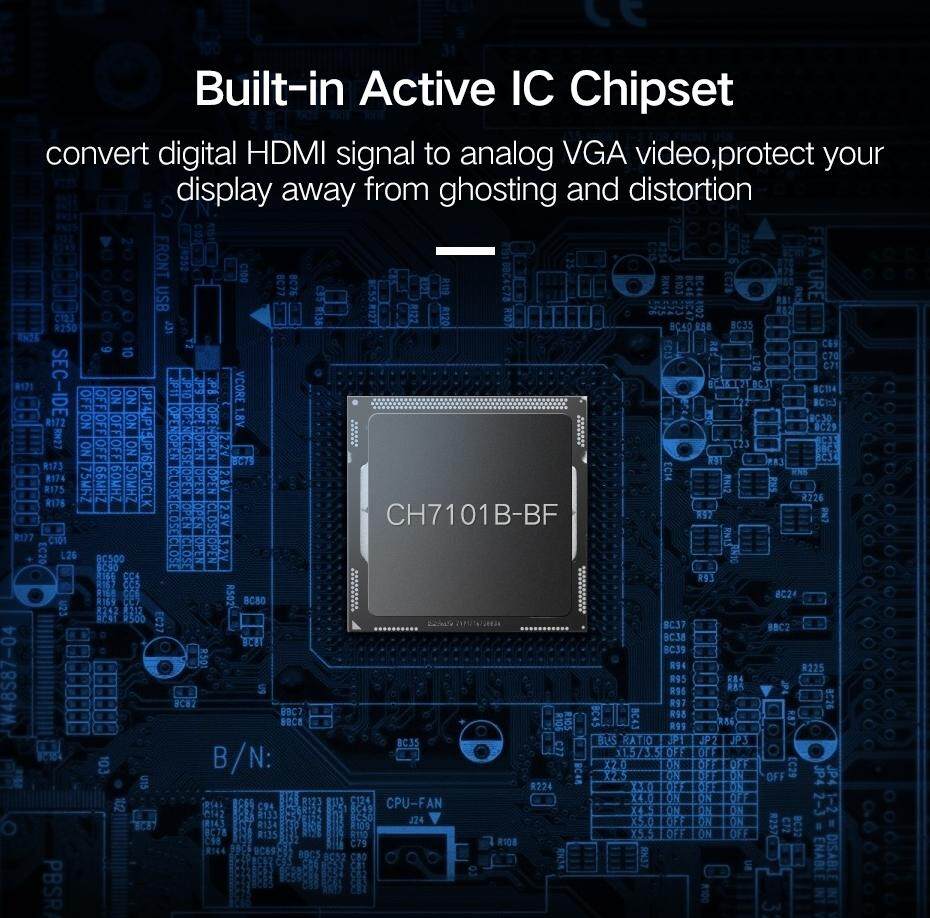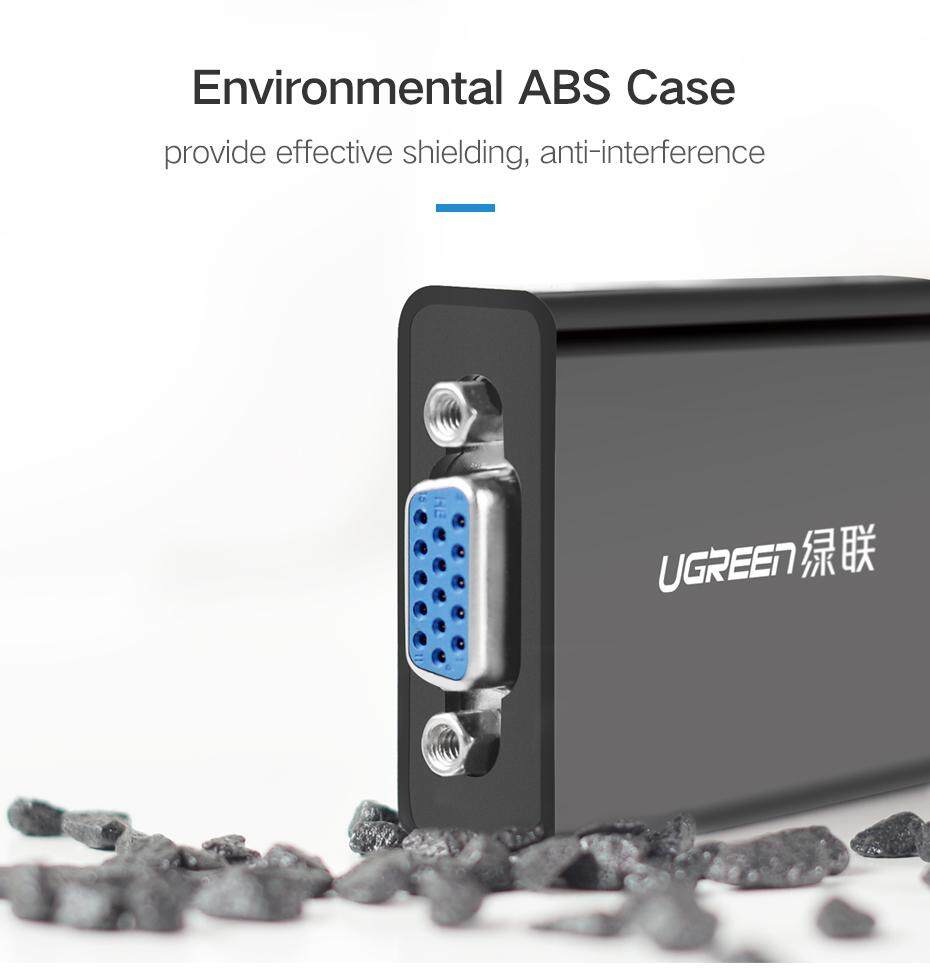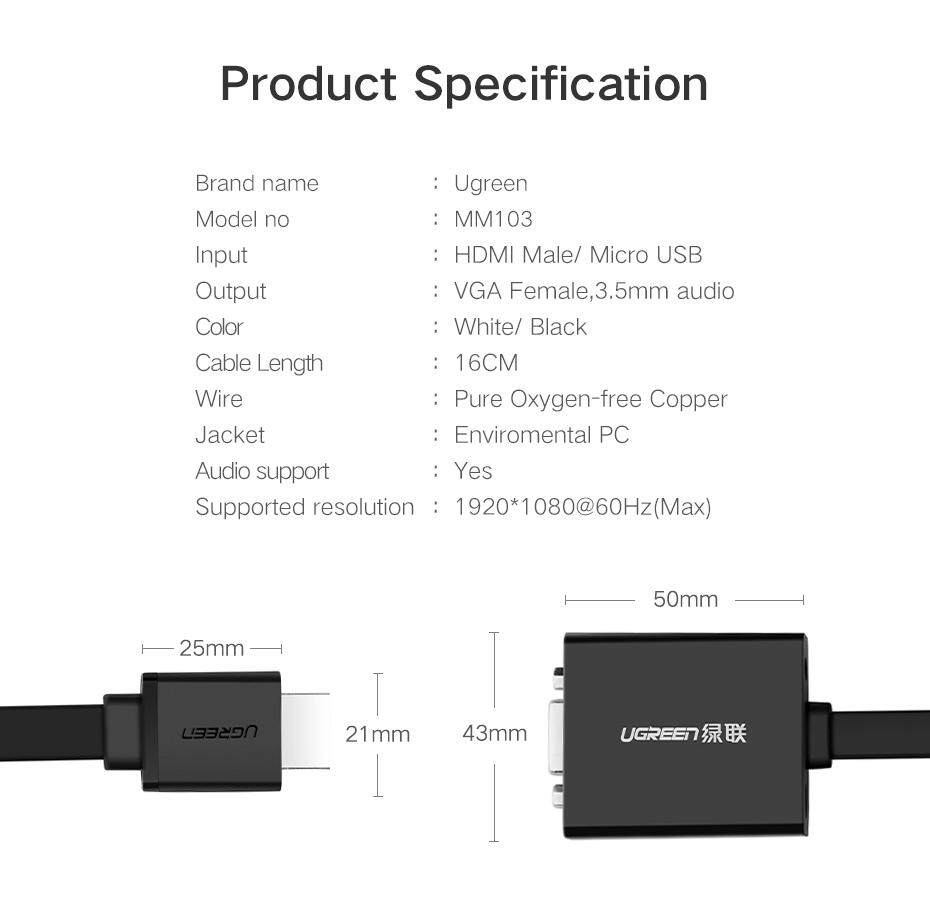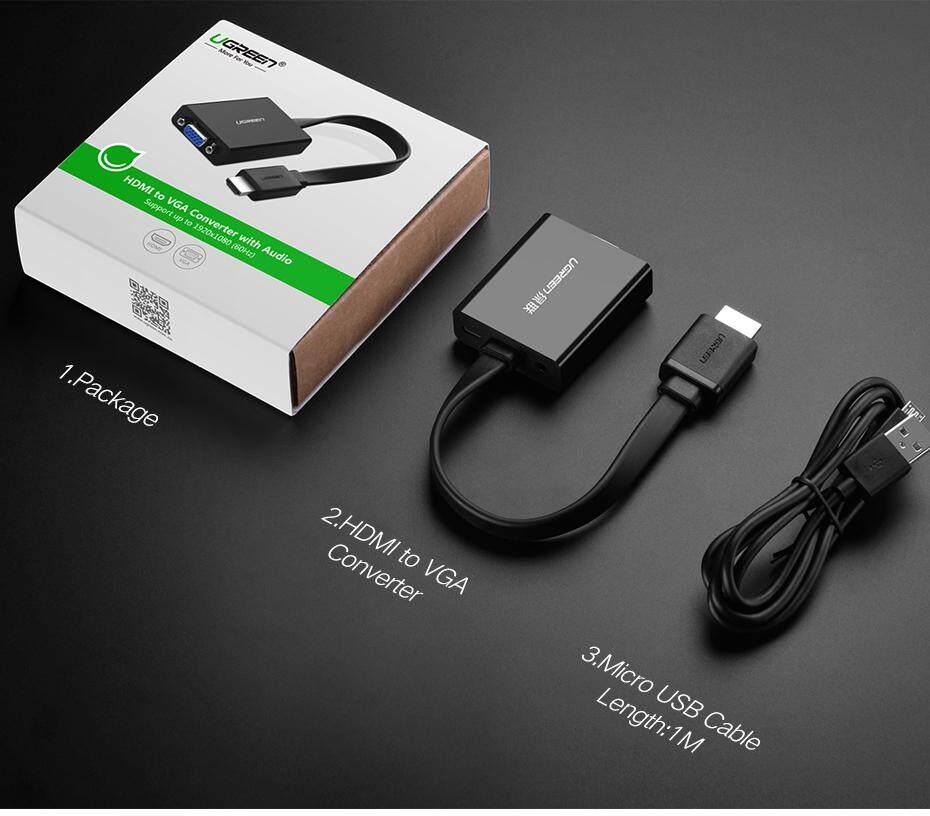 Description 
UGREEN HDMI to VGA Converter enables you to connect your new NoteBook, Laptop, Apple TV, Chromebook, Rasberry Pi, HD DV with HDMI interface to projector, LCD, TV & Monitor with VGA interface for big screen viewing. It support resolution up to 1920x1080 @60Hz,and provides with a 3.5mm audio line-out jack, which allows you to enjoy audio and video simultaneously. 
When the source devices could not offer enough power, then you could connect a micro USB cable for additional power, Like Mac Mini in 2014, Android Smart TV Box etc. 
Specification 
1. Input interface: HDMI Male/ Micro USB 
2. Output interface: VGA Female,3.5mm audio 
3. Support Video output in VGA:1920*1080@60Hz(Max) 
4. Additional power from Micro USB connector 
5. Cable Length:16CM 
HDMI input resolution support: 480p,576p,720p,1080i,1080p 
VGA output resolution support: 1024X768, 1280X720, 1280X768, 1280X800, 1280X1024, 1360X768, 1600X1200, 1920X1080 
Note 
1.This adapter is not bi-directional, and can only support signal from HDMI source devices to VGA displays. For VGA source device to HDMI converters, please check item VGA to HDMI converter (ASIN: B00QUWEBXE & B00QUWEC06). 
2.The micro USB cables included is required for MacBook Pro with Retina Display, Apple TV, Smart TV Box, Raspberry Pi, devices with low-power output HDMI port. You can connect this micro USB cable to power adapter or USB port on your PC for additional power. 
3. For Raspberry Pi, you may need to revise the config.txt and reboot. 
Payment & Security
Your payment information is processed securely. We do not store credit card details nor have access to your credit card information.